Posted by: Adam
Posted on: Nov 9, 2005 11:39 AM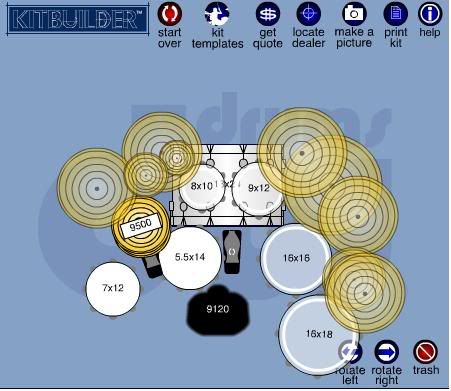 Yeah, it looks poorly thrown together.. but I would rack this one, so it makes sense.

Ayotte Customs

24x18, 10x8, 12x9, 16x16 and 18x16 (both w/ legs) with 12x7 and 14x5.5 (woodhoop keplinger) snares, all finished in purple sparkle.

Cymbals:

*all in brilliant finish unless otherwise specified*

Crashes: 18" Z Custom Medium, 18" A Custom Projection, 19" K Dark Thin, 20" A Custom Projection

Splashes: 8/10 K's

Ride: 22" K or 22" A Custom Medium

Hats: This is where I'm torn.. I'm thinking perhaps 13" Paragons.

Effects: 14" and 18" Oriental China Trash

Hardware:

Rack: Pearl ICON (stands, etc as well)
Hi-hat stand: Yamaha HS1100 or Tama Velo-Glide IC
Pedal: IC Powerglide

Heads:

Toms: Clear Emperor over Ebony Ambassador
Snares: Coated Emperor or Renaissance/Suede Emperors over ambassador hazy snare side
Bass: Clear PS3 over Ebony PS3 Ayotte logo head

I can dream, can't I?